Low vision aids are devices that aid people with low vision and allow them to use their residual vision for better living. (LVA)s work by making the objects appear bigger, brighter, and blacker or more closely, with improved contrast.
Some of the items on spotlight are listed below; you can find these products in our online store.
---
4.3" Portable Video Magnifier
Product Description
This 4.3" electronic magnifier is a handy aid to those dealing with low vision or macular degeneration. Small and compact, it can come to your aid anytime, anywhere. It magnifies from 6X to 25X on its LCD screen, offers multiple display modes to suit your individual vision needs, and allows you to freeze text, pictures, and objects for easier viewing. This digital magnifier is a great aide to reading, viewing maps, menus, recipes, medication labels and more. It is also great for reading labels and tags at retail stores or anywhere you might need bright, convenient magnification.
---
Zoomax Snow HD 4.3"
Zoomax Snow 4.3 inch handheld video magnifier is given advanced image technology and camera. It offers sharp image even at the lowest magnification and under fast movement. No learning but easy to use at the very beginning with the large buttons and unique one hand control design. You can read and write on the go or at home.
---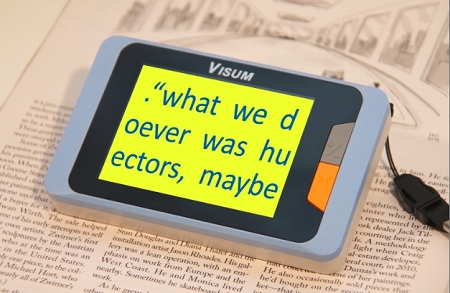 Visum Ecare 3.5" Electronic Magnifier
Ecare 3.5" is a full-function yet lightweight video magnifier that's easy to take with you anywhere you go. It offers a magnification range of 2.5x – 17x. Display images in your choice of color, B/W, reverse or one of the other false colors on the 3.5-in. widescreen LCD, and use the Freeze Frame function to capture an image onscreen and examine it more closely.